Product Development
Nanofiber product development
At RESPILON®, we believe we will never stop exploring new ways to improve products using the latest nanofiber technology. We have many achievements in the medical industry & textile industry and we know it is possible to solve many different filtration issues with nanofiber technology.
We are still curious about unique applications and solutions and we would love to hear from you if you have ideas that relate to your specific filtration needs!
Our products are designed to provide consumers with better air quality for the life they live.  Our products are made easy to use so that your most important breath isn't left to chance, just because of technology advances and allows us to provide you with superior products for your safety doesn't mean it should be complicated or difficult to use.
You might think that for such a superior product that offers so much protection and safety for you breathing it would be expensive?  The products we offer are reasonable and affordable because money should never stand in the way of better health.  Your health is important to us and we work hard to make the products we offer as affordable.
Our technology offers protection from sun and outdoors that might enter your home or business so that you can perform at your best every moment of every day.  We all know how important fresh clean air is, opening those windows on a warm day to embrace and welcome the outside environment it brings joy and a connection to the environment that shouldn't be forgotten because of pollutants.
Embrace the outdoors, let it into your life, without products there is no reason not to.  They are designed to protect your home or work environment from the tiniest of pollutants that might enter ensuring your better health.
We believe in forming lasting partnerships, which is why our vertical integration process is so comprehensive with our nanofiber technology. We are a vertically integrated company and bring world-class design and manufacturing capabilities under one roof. We deliver products across multiple industries and into a variety of distribution channels. Whether your business needs are a small selection of quality materials or a large delivery of the premium products, we tailor each specific project to suit your individual needs.
Do you have an interesting and innovative idea or technology that could take our products to a new level of protection and health safety?  We would love to hear from you so please contact our Chief Technical Officer at info@respilon.com.
Nanofibers are much smaller than humans hair or pollen, check the picture to imagine.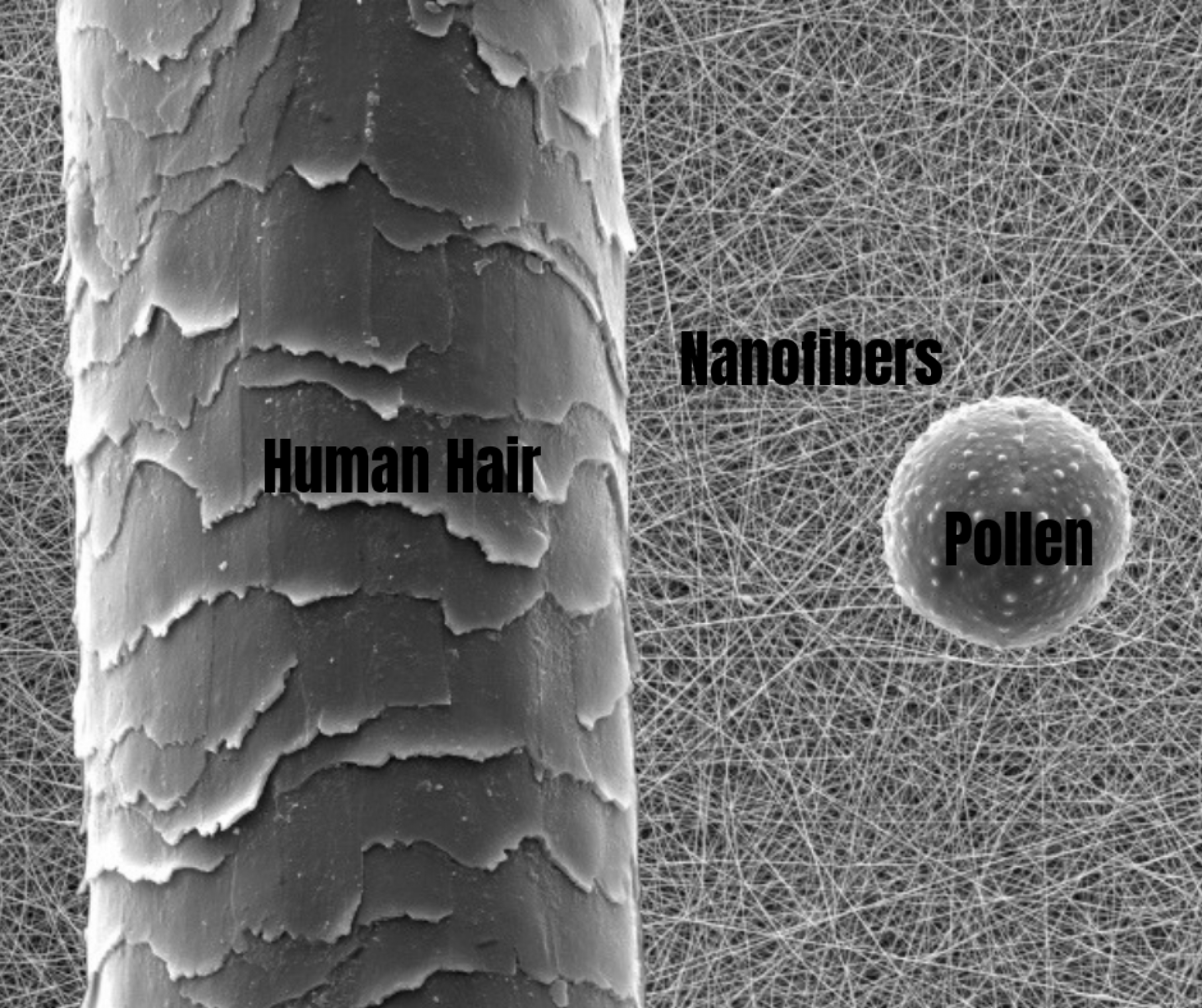 Before we put any new nanofiber membrane to products we test them all.